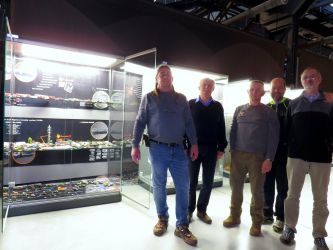 Hi friends, the long-awaited moment of the opening of the new Tatra Truck Museum has come and it never occurred to me that we would return to Kopřivnice again this year. At this point, I must thank Frenkye and Mr. Radim Zátopek, the curator, that a great thing has succeeded and that the Minimodel Team has four table displays and one large display case in the museum to present our joint work. The curator is an enthusiast in the right place, and Tatra trucks definitely deserve such a museum. An exceptional project, and we were able to become its "mini-part"!
In the first part of the gallery we bring you the moments of the exhibition installation, in the introductory photo in the middle you will also find the curator himself, who did not hesitate to "roll up his sleeves" at the birth of the whole project. The Mini-Models were sent to the exhibition in packages by several of you, others were delivered by Milan and Jan in person, on Monday it was the line-up of Me, Frenkie, Jirka, Jirka and Jirka... Frenkye graphically prepared and had three posters printed in large format, which perfectly complement the showcase and the overall presentation. Furthermore, in the photos you will find other models, Slovenská Strela and the oldest exhibits of the factory from Kopřivnice, or a joint photo of the mini-model and the original of the T-162 prototype. You can already look forward to the second part of the exclusive photo report from the museum.
Joomla Gallery makes it better. Balbooa.com
.