František Kováčik, (FDS)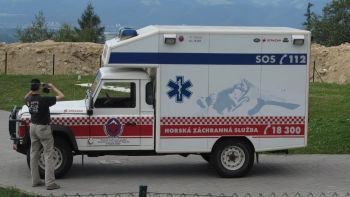 My name is František Kováčik, (FDS), born in 1975, and I currently live and work in Prešov, Slovakia.
I was introduced to model building and to model drawing by my awesome dad Ivan Kováčik. When I was a young child, he used to draw cars and trucks for me and it looks like I inherited his ability.
In the 1980's, the car brand Feriot was born. While drawing cars I created my own car brand, and besides just drawing them I started creating models of these cars. My dad and a classmate taught me a few tricks for drawing. At the time I used a clutch pencil and later, a mechanical pencil with a drafting ruler, a triangle, eraser, some markers and a few water colours to create the models on drafting paper. During the same time, 1:43 scale models of cars were published in the Czech youth magazine ABC and I enriched my collection of those with some of my own creations. And besides my own car brand, I made models of some actual cars, one of those being an armoured Land Rover.
Around the year 2006 I found a reference to the minibox.webz.cz website in ABC and I wrote an email to them about my model drawing and that I have several hundred ready. After a short email exchange, that included a list of my models, I sent a few to be published on the site. Understandably, those models were not as detailed as those I create today. Positive peer pressure from fellow model makers and builders throughout the following years made me draw better and more detailed models. Two of those were Jaromír Svoboda and František Běhounek, and because of them my first 1:100 scale model was born.
One of the biggest motivating factors for me was the "Design your own Tatra" contest, that was declared by Tatra Trucks, a.s. Kopřivnice, in 2017. Therefore, in 2017, after consultation with fire fighters, model builders and Tatra fanboys I created project ALTERA. After submitting my design concept to Tatra I was invited to the final reveal at the Tatra factory, the event was an amazing opportunity to see, where the real, amazing trucks are made. I shared this experience with Ľubo Blichár, we were at the finals together and brought home the top prize, another success for team Minimodel.
---
Ľubomír Blichár, (Bucobox)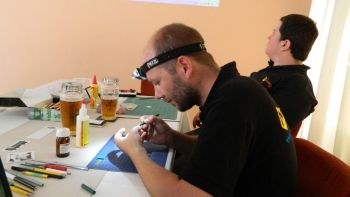 Ľubomír Blichár, (Bucobox), born 1983 and like Frenkye my long term location is also in our beautiful town of Prešov.
My introduction to paper models, trucks and construction equipment, in general, came from my grandfather, when I was a young kid. Our walks took us to the Košice neighbourhood of Terasa, where construction was going on and my love of heavy machinery was born. My grandfather also built my first paper model of a special tanker truck based on a Matchbox car.
The first model I built was obviously a truck, a 1:32 scale Scania T143H from the magazine Elektrón+Zenit. Involuntarily, I was forced to learn same model drawing skills when the chassis frame twisted after I glued it and I had to draw a new one.
After university the faithful meeting with Frenkey (FDS) occurred. We met at work and during one of our remote courses Frenkey showed me a step by step method to create models in Corel Draw. As a side note, we started making a model of a skid steer loader, probably a Case, that isn't complete yet. Frenkey's coaching was successful and after I got home I started creating my first models using a graphic design program. My first choice was a truck, that fascinated me since it first came on the market, a Mercedes Actros. This model with the serial number BB01, is still available on our webpage. The first version was with a box chassis and eventually I added a fully modeled one with axis and wheels and eventually an even more challenging one with a curved driver's cabin.
Custom-made models for:
Czech Police in Děčín
Volunteer Fire Department in Šlapanice, Czech Republic
Fire Department in the county of Ustí nad Labem
Czech Radio "visual" manual. 80 pages of graphics in less than two months
Best Drive Firm – Czech Republic
Fire Department in Unánov, Czech Republic
StitBus Czech Republic
The most recent success is becoming the official partner of the 2018 World Fire Fighting Championships in Slovakia.